Our Laurel Movers Are Here to Help You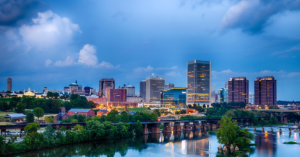 Laurel is in Henrico County and is one of the best places to live in Virginia. Additionally, there are lots of locally owned stores and eateries providing unique items and delicious cuisine great for any budget. It is a thriving community with incredible scenic views. Our Laurel movers at Heroes Moving & Storage want to be the first to welcome you to this beautiful town of Laurel.   
The Expert Commercial Movers in Laurel, VA
Here at Heroes Moving & Storage, we offer a comprehensive commercial moving service, ensuring our movers can make any office or employee relocation happen. Our Laurel movers are highly trained to be able to handle all your expensive and fragile office items. You can put your trust in us that we will take care of your business relocation without encountering any bumps in the road. Our Laurel moving companies can efficiently handle all your fragile and big office items, such as desks, printers, desktops, and much more. We can assure you that all your business belongings will be transported and handled in the safest, most secure manner possible. 
Our Reliable Residential Movers in Richmond, VA
Our Richmond, VA, movers understand how stressful a relocation can be, especially if you are moving by yourself. That is why we offer personalized services to be able to meet all of our customers' needs. Our residential moving service can handle all your home moving needs. We also offer the best piano movers Richmond, VA has to offer. We understand more than anyone how important a piano can be due to its expense or familial value. Our Laurel movers have countless experience helping many people in the Richmond area and are ready to get started helping you today.
Essential Packing Services You Will Need
We recognize that all moves are different, and we each have our own specific needs when it comes to relocating. For that reason, our Richmond moving company can offer an extremely helpful packing service. These packing services are created for your benefit, and as well as our movers we want to be able to move you as efficiently and effectively as possible. 
If come moving day, you are unprepared for your move because you are missing some supplies and equipment, do not worry. Our Richmond, Virginia movers carry a range of packing supplies to ensure your move happens smoothly. These packing supplies include packing boxes, packing tape, bubble wrap, and much more. 
Climate-Controlled Storage in Laurel, VA
If you have run out of space in your new location to store your belongings, do not worry, our climate-controlled storage units are here to help. Basic self-storage is sufficient for a lot of different household, business, or yard items. Although climate-controlled storage is necessary and highly recommended for sensitive items like antiques, musical instruments, electronics, and fine art. Heroes Moving & Storage offers a variety of climate-controlled storage options to choose from, each with varying benefits depending on your particular situation. 
Choose Our Richmond Moving Company Today
Stop wasting your time searching for the best moving companies in Laurel, that is us. Here at Heroes Moving & Storage, our Laurel movers can take care of your move no matter the situation. We pride ourselves on offering the absolute best moving experience all at an affordable price. Whether you need a climate-controlled storage unit or some help relocating a piano, we can help you!
Our Richmond moving companies look forward to helping you and your family get settled in this new lovely town of Laurel. If you have any further questions regarding moving to Richmond, we urge you to contact us today. Also, if you are looking for some moving tips and tricks for more help, check out our Richmond moving blog for more.