Richmond Local Movers: Smooth Relocations With Heroes Moving & Storage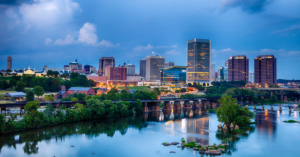 When it comes to local moving, Heroes Moving & Storage is your trusted partner for a seamless and stress-free relocation experience. Our team of expert Richmond local movers is dedicated to providing top-notch service, ensuring that your move within the Richmond area is efficient, organized, and hassle-free.
We understand that every move is unique, and we strive to provide customized solutions to meet your specific requirements. Our Richmond, VA, local movers work closely with you to create a tailored moving plan that suits your timeline, budget, and preferences. Whether you need assistance with packing, furniture disassembly, or specialty item transportation, we have you covered.
The Best Local Movers Richmond, VA, Has to Offer
Packing can be a time-consuming and labor-intensive task. Our Richmond, Virginia, movers are skilled in efficient packing techniques and use high-quality packing materials to guarantee the safe transport of your belongings. With our professional packing services, you can save time and have peace of mind knowing that your items are properly secured for the journey.
Our Richmond movers offer a variety of secure and convenient storage units in Richmond, VA. Our storage facilities are equipped with state-of-the-art security features, providing a safe environment for your belongings. With flexible access hours and optional packing services, our storage units are designed to meet your specific storage needs and ensure the protection of your items.
Safe and Secure Transportation of Your Belongings
The safety of your belongings is our top priority. Our Richmond local movers take extra precautions to make certain that your items are protected during transportation. We use industry best practices to load and secure your possessions in our well-maintained moving trucks, minimizing the risk of damage or shifting during transit.
At Heroes Moving & Storage, our movers in Richmond understand the unique challenges and complexities involved in moving pianos. That's why we offer specialized piano moving services to ensure the safe and secure transportation of these delicate instruments. Our team of trained professionals has the expertise and experience to handle pianos of all sizes, from upright pianos to grand pianos. We use specialized equipment and techniques to carefully disassemble, pack, and transport your piano, ensuring its protection throughout the entire journey.
Competitive Pricing and Transparent Estimates
At Heroes Moving & Storage, our Richmond, VA, movers believe in fair and transparent pricing. Our local movers provide detailed and accurate estimates, outlining all costs involved in your move. We strive to offer competitive rates without compromising on the quality of our services. With us, you can have confidence that there will be no hidden fees or surprises along the way.
As a full-service moving company, we offer comprehensive local and residential moving solutions to make your relocation as smooth as possible. From packing and loading to transportation and unloading, our local movers handle every aspect of your move with care and professionalism. We are committed to providing a hassle-free and enjoyable moving experience for you.
Choose Heroes Moving & Storage Today!
Customer satisfaction is at the heart of our business. Our Richmond local movers take pride in our track record of delivering exceptional service and ensuring that our clients are satisfied with their local moving experience. With Heroes Moving & Storage, you can trust that your move will be handled with the utmost attention to detail and dedication to customer satisfaction.
Contact us today to learn more about our local moving services in Richmond, VA. Our friendly and knowledgeable team is ready to assist you with all your relocation needs. From climate-controlled storage units to commercial moving, trust us to make your move a success and experience the Heroes Moving & Storage difference, inquire about a free detailed estimate today!