Going Above & Beyond the Call of Duty
Professional residential and commercial movers serving Richmond, VA and surrounding communities since 2010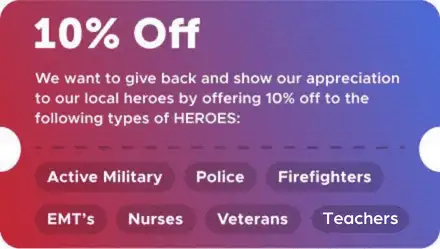 Stress Free Moving Company in Richmond
Welcome to Heroes Moving & Storage, where we are proud to offer comprehensive residential and commercial moves throughout the Richmond VA area. In addition to home and office moves, we also offer professional packing/unpacking and climate controlled storage. We are also your source for moving extra heavy items like pianos, gun and floor safes, and large appliances such as refrigerators, washers, dryers, and stoves.
Choose our family owned and operated moving company today! You will notice the difference we offer right away, thanks to our commitment to efficiency, attention to detail and affordable prices.
What People Say About Us
I've had nothing but the greatest experiences and outcomes with Heroes Moving and Storage. Mr. Plemons and his crew have always been early, fast, efficient and professional. Not one piece of furniture has been scratched, dented or damaged in any way and they take special care to protect everything! I've watched in amazement as these guys move things with ease that I think can't fit into a particular space. They've disassembled and effortlessly reassembled furnishings to get them in and out of locations and they do it with such ease your think they were the manufacturers!!! I won't use anybody but Heroes Moving and Storage and HIGHLY RECOMMEND them!
Damon
I was very satisfied with Heroes Moving and Storage. They were very prompt for our appointment and was able to move my piano without any issues. I highly recommend them and will call on them again in future.
Christina
I worked with Lori on my move and she was so helpful. Loved the time she took with me to individualize my need and get the right amount of workers and trucks. No hidden costs or fees. I would use them again.
Eileen
Awesome service! Called a couple weeks ago asking them to go to VA Beach, pick up a family heirloom baby grand piano and move it into my home in Midlothian. Cory was excellent in providing a fair estimate. On the day of the move, Kyle and his team kept us informed at both locations, stuck to timeframes, were quick but careful, professional, friendly and respectful of the piano and my home. Highly recommend!
Freddie
I had to move a baby grand within a day after another company failed to show up. Heroes, literally, came in and saved the day! I look forward to working with them in the future. Very professional, on time, courteous and kind! My new go-to moving company!
Mary
Why Choose Heroes Moving & Storage?
Experienced Team of Movers
BBB Accredited with A Rating
100% Committed to Complete Client Satisfaction
Award Winning Service
Here at Heroes Moving & Storage, we are dedicated to ensuring your commercial or residential move goes smoothly from start to finish. Serving Richmond, VA and the surrounding areas, including Chesterfield, Henrico, Hanover, and Powhatan, we offer much more than just standard moving services. We also offer professional packing/unpacking, move in/out cleaning, junk removal, and climate controlled storage.
Our Heroes Family
Our family owned business has been serving Richmond for the last decade with high quality residential and commercial moves. We place a big emphasis on communication, attention to detail, honesty and integrity. From our family to yours, welcome home!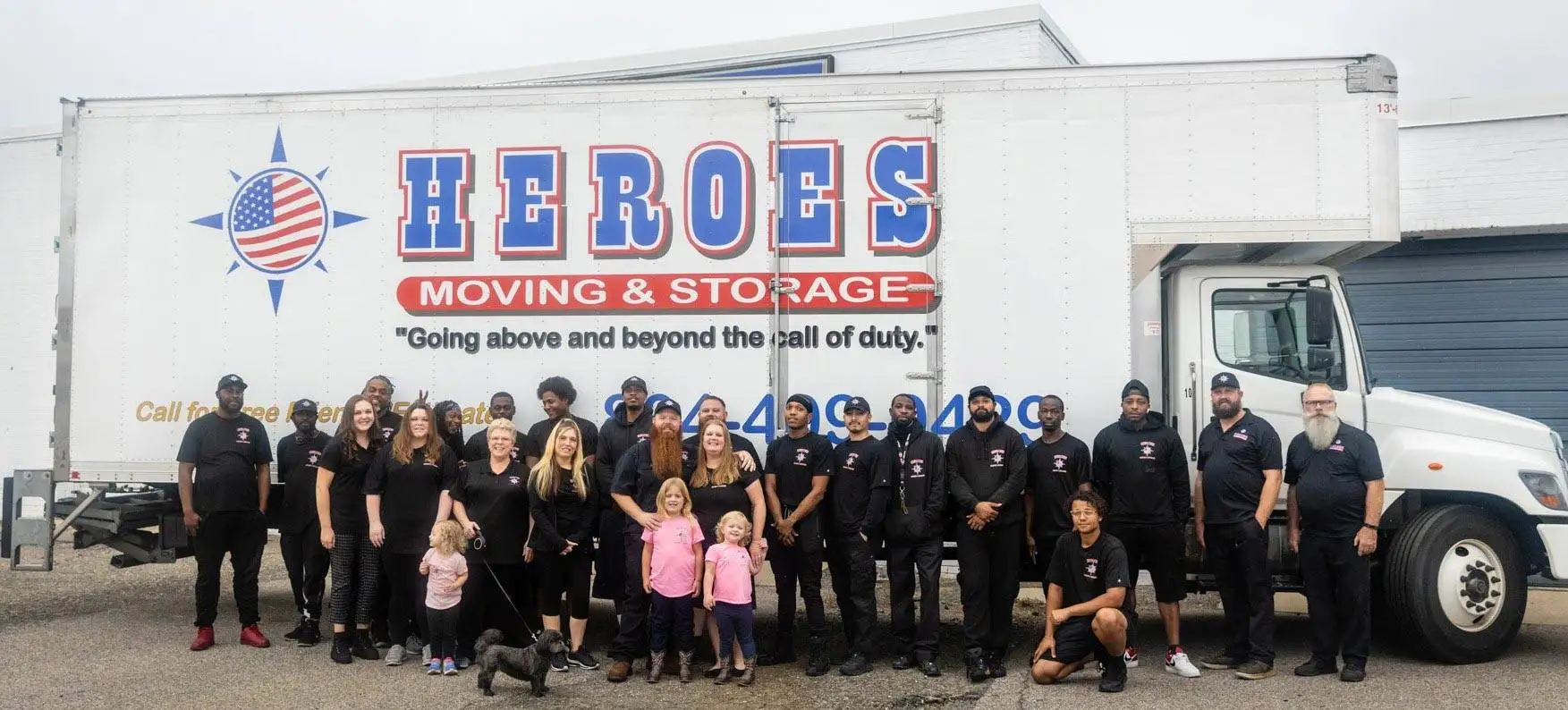 FAQs
If you're looking to move from one home to another, or relocate your business from one city to another, you likely have a lot of questions. After all, it's a confusing and stressful time. But arming yourself with the right information can take the guesswork out of the process, lifting the burden from your shoulders.
Considering a move to or from Richmond VA? No problem. The experts at Heroes Moving and Storage have you covered. We have listed our most common questions here, but as always welcome you to call us personally if you have further queries.
How Much Do Movers Cost in Richmond?
The final price tag for your move will depend on a variety of things, such as whether you're moving close by or over a long distance, or the extra services you may need (think: packing or storage). The average cost of a basic move in Richmond is $399. It typically takes about three hours for a local move, and requires two movers and one truck. This price will go up if you have more than a two-bedroom home, have a lot of heavy belongings, or are moving over state lines.
Where Should I Move in Richmond?
No one can answer this for you, as this decision is highly personal. But we can outline a few of the more popular neighborhoods to help you in your search. The best neighborhoods in Richmond for 2021 include:
Mary Munford
Colonial Place
Malvern Gardens
Three Chopt
Stonewall Court
The Museum District
The Fan
Oxford
Sherwood Park
Westover Hills
Every neighborhood has its distinct benefits. For example, The Fan is peppered with late 19th and early 20th century homes, featuring tree-lined streets great for kids to play with friends. Here you have a nice mix of college students, professionals and young families. The Museum District is more affordable than the Fan but with similar historic homes, within walking distance of several eclectic museums, restaurants and shopping.
What is a Good Salary in Richmond?
The average salary in Richmond is $63,000 a year. Virginia happens to be one of the most expensive states in the country, but thankfully, the cheapest metro area to call home here is Richmond. For a family of four, you will need to bring in a combined $83,000 a year in order to live comfortably here.
What are the Richest Parts of Richmond?
The richest neighborhood here is Wilton, where the median income is $231,000 and the average home price is $995,000. After Wilton, you have Windsor Farms, Country Club of Virginia, Stonewall Court, Three Chopt, Colonial Place, Willow Lawn, Stratford Hills, Stony Point, and Monument Avenue Park.
What is the Least Expensive Part of Richmond?
Some neighborhoods could save you a lot on your monthly rent or mortgage, but you could be sacrificing crime rates or location for more space and cheaper grocery bills. But the cheapest Richmond neighborhood to live in is Edgewood in terms of overall cost of living, rent-to-income ratio, and median home value to income ratio.
Is Richmond Better Than Other Cities to Move To?
No one can answer this definitively, but certainly many people who live here love it. It's home to 230,000, it's the fourth most populous city in the state, it's quite bikeable and walkable, it has high rated schools, and it's great for industries such as finance, healthcare, biotechnology, advertising and manufacturing.
Richmond has a rich history, it's 92 miles from DC and it's close to all major highways and freeways.
What Cities Do People Typically Move to From Richmond?
Statistics show that most people, when leaving the Richmond area, move to San Diego, Columbia SC, Houston, Denver, Phoenix, Orlando, Dallas, Jacksonville and Colorado Springs. Now, when it comes to where people are moving to Richmond from, it looks like they're coming from New York, Washington DC, New Jersey, Florida and Maryland.