Our Northern Virginia Movers: Seamless Relocations With Heroes Moving & Storage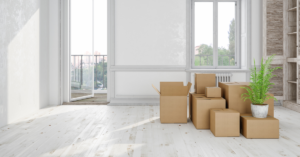 When it comes to moving, Heroes Moving & Storage is your trusted partner for a seamless and stress-free experience. Our team of experienced Northern Virginia movers understands the unique challenges of relocating in this bustling area and is committed to providing top-notch moving services to ensure a smooth transition to your new home or office.
Count on the Best Movers Northern Virginia Has to Offer
Moving to a new home can be an exciting but overwhelming experience. Our residential moving services in Northern Virginia are designed to make your move as seamless as possible. Our professional movers in Richmond will carefully pack, transport, and unpack your belongings, ensuring their safe arrival at your new residence. We handle every aspect of your move with precision and care, allowing you to focus on settling into your new home with ease.
Our Professional Commercial Moving Services
Relocating your business can be a complex and time-consuming task. With our comprehensive commercial moving services, you can trust us to handle every aspect of your move efficiently and professionally. Whether you're moving to a new office, retail space, or warehouse, our experienced movers in Northern Virginia will work closely with you to develop a customized plan that minimizes disruption and ensures a smooth transition for your business.
Reliable Senior Moving Services
Moving can be particularly challenging for seniors, and that's why we offer a specialized senior citizen moving service. Our compassionate team understands the unique needs of seniors and provides personalized support and assistance throughout the entire moving process. From packing and organizing to transportation and unpacking, our Richmond movers strive to make the transition as smooth and stress-free as possible, allowing seniors to focus on settling into their new homes.
Climate-Controlled Storage Units That You Need
Sometimes, during the moving process, you may need temporary storage for your belongings. Our climate-controlled storage units in Northern Virginia provide a secure and controlled environment to safeguard your valuable possessions from extreme temperatures, humidity, and other environmental factors. Whether you require short-term or long-term storage, you can trust that your items will be well-maintained and protected in our state-of-the-art facilities.
Our Expert Piano Relocation Services
Moving a piano requires skilled expertise and care. At Heroes Moving & Storage, we offer professional piano moving services to ensure the safe and secure transportation of your valuable instrument. Our trained specialists understand the delicate nature of pianos and use specialized equipment and techniques to carefully disassemble, pack, and transport your piano, ensuring its protection throughout the journey.
Count On Our Richmond Moving Company Today!
At Heroes Moving & Storage, our Northern Virginia movers understand that each move is unique, and we strive to provide tailored solutions to meet your specific needs. Our team of dedicated movers is committed to delivering exceptional service, professionalism, and reliability. Whether you require piano moving, commercial moving, senior citizen moving, climate-controlled storage, or residential moving services, you can trust the best movers in Northern Virginia to handle your relocation with the utmost care and efficiency.
With Heroes Moving & Storage, your Northern Virginia move will be handled with the highest level of expertise and attention to detail. Contact us today to discuss your moving needs and experience a stress-free and successful relocation with our trusted team of Northern Virginia movers. Inquire about a free detailed estimate!