Consulting
Free Consultations with Heroes Moving & Storage
When you call us for a complimentary on-site or virtual video estimate, we will quickly respond and schedule at your convenience a time to look at the property.  Once there we will listen to your needs and discuss the next step for your move or desired service.  After evaluating all information gathered, we will quickly draw up a written proposal, and E-mail or text it to you.
Richmond, VA Most Extensive Moving Services Offered
Heroes Moving & Storage serves Richmond, VA and the surrounding areas including Chesterfield, Richmond, Henrico, Hanover, New Kent, Powhatan, Amelia, Goochland, Dinwiddie, Prince George, Colonial Heights, Louisa, Williamsburg, Prince William, Charlottesville, Charles City.
Services we offer to residential and office/commercial clients alike are moving, professional packing/unpacking, junk removal and climate-controlled storage.  We are one of those rare moving companies that includes services for extra heavy items such as a piano, gun, or floor safe, large appliances (refrigerator, washer, dryer, and stove). Pianos are special to us- we reign supreme in moving, tuning, or repairing them. We also have used pianos for sale or rental, and available Monitored, Climate Controlled Storage for them.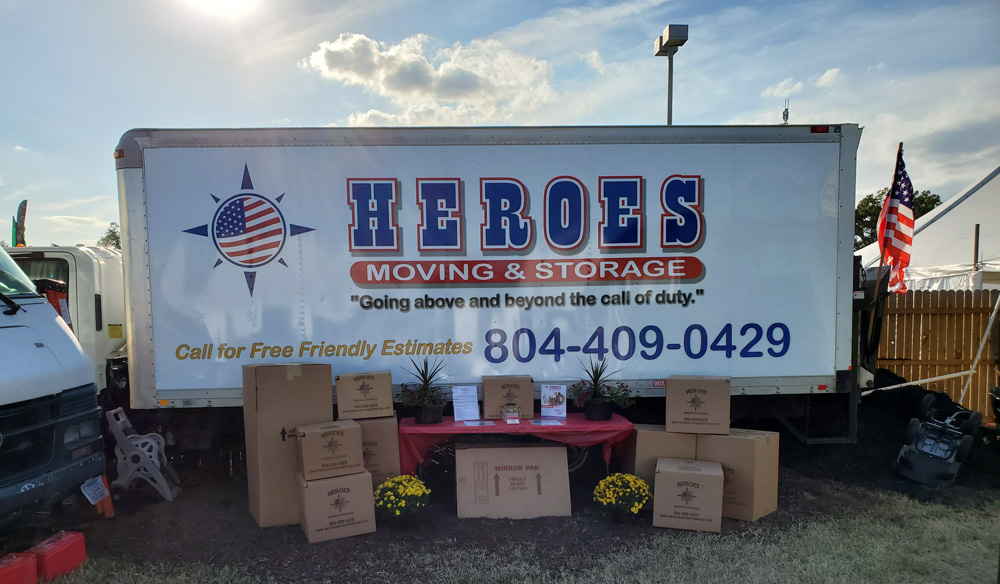 JUST WANT TO GET A BALLPARK FIGURE?
With some information, we can offer a free moving estimate over the phone, text or by email. However, in certain circumstances, it's best if we visit or do a virtual video and see what you have to move. In this event, our expert estimators will look at all the rooms and items you are moving to give you a better-derived estimate.
Contact Heroes Moving & Storage
To learn more about our commercial moving services or to get a free estimate, contact us at
804-409-0429.