Richmond Furniture Movers: Trust Heroes Moving & Storage a for Seamless Relocation
At Heroes Moving & Storage, we understand that moving furniture can be a daunting task. Whether you are relocating to a new home or office, or need assistance with furniture delivery, our professional Richmond furniture movers are here to make your move stress-free and efficient.
Why Choose Heroes Moving & Storage for Your Furniture Moving Needs?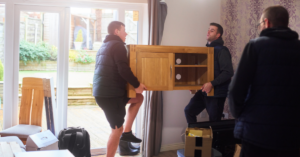 Our team of furniture movers in Richmond is highly experienced and trained to handle furniture of all shapes and sizes. We have the expertise to disassemble and reassemble furniture, ensuring safe transportation and efficient use of space during the move.
We treat your furniture as if it were our own. Our movers in Richmond, VA, use high-quality packing materials, including protective padding and blankets, to safeguard your furniture from scratches, dents, and other damages. We take extra care with fragile items, ensuring they are appropriately wrapped and secured for transit.
Our Richmond furniture movers are skilled in efficient packing techniques. We strategically organize and load your furniture into our moving trucks, maximizing space utilization and minimizing the risk of damage during transportation. Upon arrival at your new location, we swiftly and carefully unload and unpack your furniture, saving you time and effort. If you need extra space to store your furniture, we can provide you with the climate-controlled storage units you need. 
Our Richmond Movers Have All the Moving Supplies You Need
Heroes Moving & Storage is equipped with specialized tools and equipment to handle any furniture moving challenge. From dollies and hand trucks for heavy items to furniture sliders and straps for awkwardly shaped pieces, we have the right resources to ensure a smooth and safe move.
Our Richmond, Virginia, movers understand that every move is unique, which is why we offer flexible services to cater to your specific needs. Whether you require packing services for a residential move or a commercial move, our team can customize our services to match your requirements and budget.
Whether you're moving across town or across the country, Heroes Moving & Storage has the expertise to handle local and long-distance furniture moves. We have a thorough understanding of the Richmond area, ensuring efficient navigation through neighborhoods and traffic to deliver your furniture on time, every time.
The Best Furniture Movers Richmond, VA, Has to Offer
At Heroes Moving & Storage, our movers in Richmond take pride in being the trusted choice for furniture moving in Richmond, VA. Our commitment to customer satisfaction, attention to detail, and reliable services sets us apart from the rest. When you choose us as your furniture movers, you can expect:
Peace of Mind: Moving can be a stressful experience, but with Heroes Moving & Storage, you can have peace of mind knowing that your furniture is in capable hands. Our team of professionals is dedicated to providing a smooth and worry-free moving experience.
Timely and Efficient Service: We understand the importance of time when it comes to moving. Our furniture movers work diligently to ensure that your furniture is transported and delivered according to schedule. We strive to make the process as efficient as possible, so you can settle into your new space without unnecessary delays.
Transparent Pricing: We believe in transparent and fair pricing. Our team provides accurate and upfront cost estimates, ensuring that you know exactly what to expect from our services. There are no hidden fees or surprises—just reliable and affordable furniture moving solutions.
Friendly and Professional Staff: Our team of furniture movers consists of friendly and professional individuals who are committed to delivering exceptional customer service. We prioritize open communication and are always available to address any questions or concerns you may have throughout the moving process.
Fully Licensed and Insured: As a reputable moving company, we are fully licensed and insured. This means that your furniture is protected against any unforeseen incidents during the move. We prioritize the safety and security of your belongings, giving you added confidence and peace of mind.
Heroes Moving & Storage Is Here to Help
Trust Heroes Moving & Storage for a seamless furniture moving experience in Richmond, VA. Our Richmond furniture movers are dedicated to providing exceptional service, careful handling of your furniture, and reliable transportation. Let our team of experts take the stress out of your move and ensure that your furniture arrives safely and in pristine condition at your new location. From piano movers to long-distance movers, we've got you covered.
Contact us today to learn more about our furniture moving services or to request a detailed estimate. We are here to assist you with all your moving and storage needs in Richmond and beyond. Move with confidence, move with Heroes!