Moving Services in Richmond, VA
Here at Heroes Moving & Storage, we are a full-service moving company that prides itself on offering the absolute best moving experience, all at an affordable price. As a full-service moving company in Richmond, we specialize in offering a variety of moving services, enabling us to accommodate any customers that need our help. Continue reading below for a more in-depth look at our moving services in Richmond, Virginia.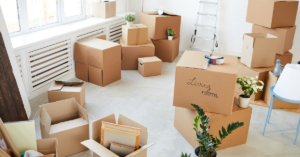 Our Reliable Residential Movers in Richmond, VA
With our residential moving service, our local movers in Richmond specialize in residential moves of all kinds. Whether you're moving from a small home into a large one or from one apartment to another, we have you covered. Rest assured, our movers do all they can to protect your home and belongings while we are doing our jobs.
Commercial Movers in Richmond
From retail spaces to offices, we can move your business items with ease. Conference room tables…chairs…cubbies…desks…electronics…you name it, we can move it. We take the utmost care to move computers, files, printers, scanners, and copiers — all of which have different needs. We make sure our office movers in Richmond are highly-trained to handle and transport all your fragile and expensive office items with extreme care and caution. Choose our commercial moving service today to help relocate your business. 
Do You Need In-Home Moving Help?
We also specialize in professional in-home moving services. Our experienced movers can help you move heavy or awkward items within your home or to another location. We offer labor-only moves, loading and unloading of PODS or other storage containers, and loading and unloading of rental trucks. We also sell a variety of supplies to pack your items safely. Heroes Moving & Storage hires veterans and performs background checks and drug testing on their employees to ensure the safety and protection of your property. This helps make us one of the best moving services in Richmond.
The Piano Movers Richmond, VA, Needs
Got a piano to move? Heroes Moving & Storage's piano moving service can help. We have the experience and equipment to move your piano of any size, from uprights to baby grands. We also offer services to move, tune, repair, and/or store them in a climate-controlled storage facility, with an additional option of tuning every six months.
Senior Moving Services in Richmond, VA
Heroes Moving & Storage offers moves for seniors throughout Richmond, VA, and beyond. You may need to downsize if your house has unused bedrooms, your location is not within convenient walking distance to restaurants and grocery stores, the yard work is getting more difficult to accomplish, or the upkeep on the interior of the home has become more difficult. You can count on our senior moving services to take care of all your elderly moving needs.
Packing Services Richmond,
VA, Has
to Offer
If you just don't have the patience, time, or supplies to pack up your own belongings before a move, let Heroes Moving & Storage handle it. We offer professional packing and unpacking services throughout Richmond and beyond. Have us pack a few items, or have us pack it all: your choice!
Richmond Storage Units
Our climate-controlled storage units in Richmond, VA, take the edge off of outside temperatures thanks to an air system that triggers when temperatures get out of our set range. These storage units are good for storing any electronics, artworks, tools, and much more, mainly to avoid these items rotting or becoming unusable. 
Safe Moving Company in Richmond, VA
Heroes Moving & Storage serves Richmond, VA, and the surrounding areas with safe moves for residential homeowners and commercial business owners. In fact, we will move any large, heavy, or awkward object you may have, including pianos, gun and floor safes, money safes, fire and flood-secured safes, and large appliances such as refrigerators, washers, dryers, and stoves.
The Best Richmond Home Staging Program
We will partner with your realtor to assist in removing any clutter that you have so your home sells faster and for the most money. For any realtors interested, when you partner with us, you will enjoy the perks of our Home Staging Program that will provide your clients with 1 month of free climate-controlled storage, 10% off their staging move, and 10% off their final move, plus up to 20 free boxes on both moves. In addition, you will become a member of our referral program, which will give you points you can use toward great items for yourself or to give to your clients.
Move With
Us and Get Your Free Consultation Today!
When you call us for a complimentary on-site or virtual video estimate, we will quickly respond and, at your convenience, schedule a time to look at the property. Once there, we will listen to your needs and discuss the next step for your move or desired service. However, in certain circumstances, it's best if we do a virtual video and see what you have to move. In this event, our expert estimators will look at all the rooms and items you are moving to give you a better-derived estimate. After evaluating all information gathered, we will quickly draw up a written proposal and e-mail or text it to you.
Stop wasting your time searching for the best Richmond moving companies that offer the service you need because you have already found us at Heroes Moving and Storage. We promise we can take care of your relocation and accommodate any moving needs you have. We urge you to contact us today if you have any questions or concerns regarding our moving services in Richmond.