Looking for Movers in Henrico, VA?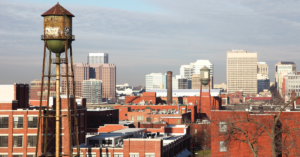 Henrico is a county in Virginia surrounding the city of Richmond. If you are looking to move to this lovely metropolitan area known as Henrico, we suggest asking us for some help. Here at Heroes Moving & Storage, our movers in Henrico, VA, are ready and eager to assist you. We are a full-service moving company with an immense amount of experience. It can be tough maintaining our reputation as one of the best moving companies in the Richmond area, specifically Henrico. 
Although Henrico and other nearby counties are politically and financially independent of Richmond, these are considered to be part of the Richmond metropolitan area. Henrico is a newer community northeast of the city of Richmond. Henrico boasts easy access to downtown Richmond and plenty of top-notch attractions. It is just a quick trip from the mountains, beach, and our nation's capital. When people are looking for homes for sale in Henrico, VA, they are also going to find a number of desirable attractions within a close drive, from a world-famous raceway to miles of Virginia history.  
Henrico Residential Movers
Luckily, as a full-service moving company, our Richmond local movers in Henrico will take care of all aspects of your move, from start to finish. Our residential moving service can handle any type of residential move, whether a condo, townhome, studio or home. Our professional team of movers will take every extra step to ensure the safety and security of your belongings throughout the relocation process. We also offer climate-controlled storage units for those who may be downsizing their home or just need the extra space.
Our Expert Henrico Corporate Movers
Our Heroes Moving & Storage can take care of any type of move. We are staffed to handle any type of commercial moving. Our qualified relocation specialists are more than capable of handling a corporate move of any magnitude. We highly ensure that we train our movers to be able to handle all your office items with extreme care and caution.
Our Reliable Local Movers Henrico, VA
Here at Heroes Moving & Storage, we take the time to understand what your particular moving needs are. We understand that all moves are different and we each have individual needs when it comes to relocating. We built our company on providing great customer service and superior care. Our Henrico movers provide an essential packing service that can be crucial to the execution of your move. We can even help you move heavy bulky items. For example, trust our piano movers to be able to handle moving any type of timeless piano. We make sure our movers are heavily equipped with all tools necessary to execute your move as efficiently and smoothly as possible.
Contact Heroes Moving & Storage
Now that you are ready to make your move, we urge you to not waste your time looking for moving companies in Henrico, VA. Our team of expert and dependable movers in Richmond are here to help you. Do not hesitate to reach out to us. If you are ready to get started on your next move, contact us today! Our professional movers are ready and here to help with any moving needs you may have.