Richmond Furniture Removals: Simplify Your Move With Heroes Moving & Storage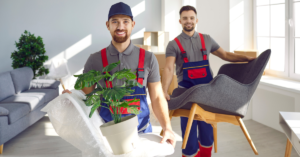 When it comes to furniture removals in Virginia, Heroes Moving & Storage is your trusted partner for a seamless and stress-free experience. Our team of experienced Richmond furniture removal specialists understands the unique challenges involved in relocating furniture, and we are committed to providing top-notch moving services to ensure the safe and efficient transport of your valuable pieces.
We Provide a Hassle-Free Move
Our Richmond movers recognize that every furniture removal is unique, and we strive to provide tailored solutions to meet your specific needs. Whether you're moving a few pieces of furniture or an entire household, our team will work closely with you to develop a customized plan that accommodates your timeline, budget, and requirements.
Professional Packing and Protection
Our movers in Richmond know that your furniture holds both monetary and sentimental value, which is why our furniture removal specialists are trained in professional packing techniques. We use high-quality packing materials, including furniture blankets, bubble wrap, and shrink wrap, to protect your furniture from scratches, dents, and other damage during transit. Our attention to detail ensures that your furniture arrives at your new location in the same condition as when it left.
Efficient Disassembly and Assembly
Some furniture items may require disassembly and reassembly during the moving process. Our skilled team is experienced in efficiently disassembling and reassembling furniture, ensuring that each piece is carefully labeled and all necessary hardware is securely stored. Take the hassle out of furniture assembly, allowing you to focus on settling into your new space while we do the hard work for you.
Our Richmond Moving Company Provides Secure Transportation
Our Richmond, VA, movers prioritize the safety and security of your furniture during transportation. Our well-maintained moving trucks are equipped with specialized equipment, such as furniture dollies and straps, to securely load and transport your items. Our experienced movers take extra precautions to prevent shifting or damage, ensuring that your furniture arrives at its destination intact. You can trust our furniture removal services!
Additional Moving Services
In addition to Richmond furniture removals, Heroes Moving & Storage offers a range of comprehensive moving services to cater to all your relocation needs:
Choose Our Richmond Movers Today!
At Heroes Moving & Storage, we are dedicated to delivering more than Richmond furniture removals, exceptional customer service, and reliable moving and packing solutions. Contact us today to discuss your furniture removal needs and experience a stress-free move with our experienced team. We urge you to inquire about a free detailed estimate!