Prepping Your Car For Moving Day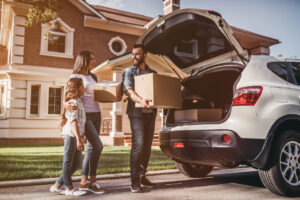 Even if your car can't possibly take all your belongings with you to the new place, it will definitely be taking you, your family, your plants, your pets and any essentials or valuables you may have. That's why it's critical to ensure your car is up-to-date on maintenance prior to moving day.
From packing to keeping the kids entertained, there's a lot to worry about when relocating: don't let your vehicle be one of them.
Necessary Maintenance
You never want to be surprised on moving day with a car that won't start. Make sure your vehicle gets the following maintenance services in the weeks before the big day:
Oil change. Moving long distances with heavy items can put a lot of stress and strain on a vehicle. Even when you have assistance from a moving truck, your car will be expected to handle more weight than it's used to. This additional strain can make existing issues even worse. New oil helps your car operate more smoothly.
Tune up. Just like you do, your car needs check-ups. Bring your car to a trusted mechanic for a general tuneup, from the windshield wipers to the engine.
Carwash. Not only will a fresh wash make your car look its best, it will make you feel better as well. When you treat yourself and your car to a wash before the move, you can boost your mood and look good while you're at it.
Protect Your Car From Damage
Protecting your car on the big day means you have to plan ahead. Check the weather and make proper preparations. For example, if rain is in the forecast, make sure the headlights, high beams and windshield wipers are working properly. Make sure your tires are properly inflated according to manufacturer recommendations to avoid a blowout on the road.
Moving Day Car-Care Tips
There are many things to consider on moving day, from having a full tank of gas to emptying out trash and unnecessary items.
Pack your car strategically to make the most use of all available space. Pack things you will need immediate access to, rather than putting them inside the moving truck. These will include prescriptions, jewelry and other valuables, snacks for the kids, travel games, books, and a change of clothes for the first night.
When you take the right steps to make sure your car is in great working order, you're doing your part to ensure a successful, seamless move.
Contact Heroes Moving and Storage
Now that you have your car all packed, you'll need our professional movers to help with the bulky stuff. Contact us at 804-409-0429 for a free quote to get you started!