How to Pack Shoes for a Move
Shoes are bulky, heavy, and not one of the easiest parts of your closet to pack. Some people have large shoe collections that they have worked on for years. This can make it hard to let them go because of a move. Packing many shoes becomes easier once you know the right tricks. You must resist the urge to throw all your shoes in a box and call it a day. Packing shoes seems like a lot of work, but it will be worth it in the long run. Proper packing will ensure your shoes are in the best shape while moving.
It's important to explore the best way to pack shoes for a move. Trusting experts can help you with avoiding issues. Heroes Moving and Storage has the most knowledgeable and trusted employees. They will not only move your packed shoes but also assist with your entire move. Our Virginia-based movers are here to help ensure that your shoes make it through your entire move without scuffs. Below is a guide of tips and hacks that explains how to pack shoes for a move.
The Best Way to Pack Shoes
Many items, not just delicate items, move around and break during a move. Shoes can get scuffed or scratched, and they can even break if they are not packed properly. Packing shoes can be done properly with the correct guidance. There isn't one specific way to pack. The process is different for everyone, depending on how much an individual cares about conserving their shoes. At the very least, people have the standard of not wanting them to break. Unfortunately, that can not be fully guaranteed when it comes to moving.
If you are wondering, "How to pack your shoes for a move," one of the best ways is to put them in the box they came in, if possible. Shoeboxes are made for transport. They stack well, and it is easy to fit them into other, bigger boxes. If you no longer have the original shoeboxes, which is probable, we suggest when packing shoes into a bigger box, ensure that heavy shoes are put at the bottom. This is to ensure the bigger, heavier shoes don't crush your smaller, lighter shoes. Another tip is to pack your shoes and label which pairs are in each box. This will come in very handy for unpacking.
Footwear can contain moisture that can turn into fungus and mold in your shoes. This is more likely to happen if your shoes are in packing boxes that are being moved to or from a humid climate. Cleaning shoes before packing them is essential. Shoes will touch various different pavements containing dirt and bacteria. Putting all of your footwear together in a box sounds like a disaster. Simply do a quick clean-up and disinfect your shoes before storing them. This step is essential to the packing process.
Hacks for Packing Your Shoes
Heroes Moving and Storage has put together some hacks that will be helpful when you are at the stage where you are packing shoes.
Donate shoes that you rarely or don't ever wear.

Place tea bags in any shoes with bad odors.

Stuff your shoes with socks or packing paper to preserve their form.

Pack shoes in a hanging shoe rack.

If putting footwear in a suitcase, keep shoes separate from clothes.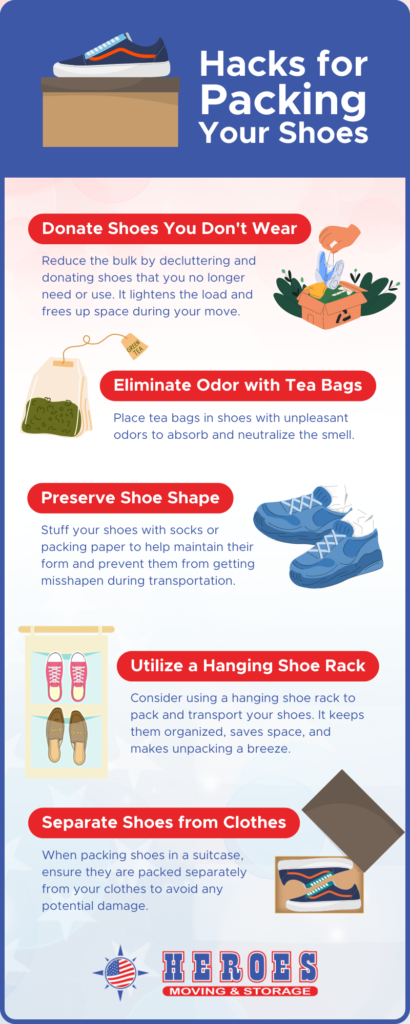 Heroes Moving and Storage Will Help You Move Your Shoes
Check out some of our other blogs if you need more moving advice. These offer insightful tips and tricks that can help you with your moving process. Contact Heroes Moving and Storage today for any of your other moving needs!